Safe Parasite Control for Pets and Homes
Author: DEO


Many families are returning to natural methods instead of harsh chemicals to care for their homes. It is being well publicized that many of the chemical options available on the market today are not good for, if not hazardous to, individuals' and their fuzzy companions' health. One of the biggest issues pet parents deal with is parasites which include intestinal worms, fleas, and ticks. A natural solution many are turning to is Diatomaceous Earth.
DE is the microscopic fossils of diatoms or plankton which lived thousands of years ago. Diatomaceous Earth is currently being used for many purposes in both domestic and industrial life. This substance is milled into tiny particles which perforates insect bodies causing dehydration and death.
Small amounts of DE may be safely fed to canines and felines with their regular diet on a consistent basis, or for at least 30 consecutive days, to eliminate internal parasites such as worms. It is important to feed them only the recommended supplement as directed by weight and discuss this with the vet to ensure that particular companion does not have other underlying health issues.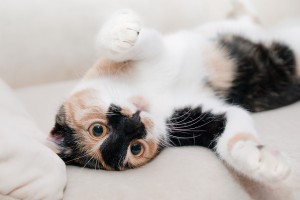 Large dogs over 50Kgs 1-2 heaped tablespoons per day
Large dogs over 35kgs 1 tablespoons per day
Medium dogs 15-35kgs ½ – 1 tablespoon per day
Small dogs under 15kgs 1 teaspoon per day
Puppies ½ to 1 teaspoon per day
Cats 1 teaspoon per day
Kittens ½ teaspoon per day
Pet bedding, living areas, and carpets can be dusted with Diatomaceous Earth to help rid homes of fleas and ticks. The dust should remain on the carpet for no less than one hour before vacuuming to be effective. The longer it remains, the more effective it will be. It is necessary to repeat this process several times for a least two weeks. Parasite eggs can hatch in as little as two days and for up to two weeks.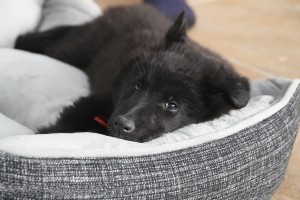 It is important to remove the pet from the area while dusting it and wear a simple filter mask which may be found at any department, hardware, or home improvement store. It is not hazardous when it is consumed; however, it can cause a small amount of irritation, if it is inhaled by animals or humans.
Diatomaceous Earth Online offers several food grade types of this product, all of which is safe and non-toxic. Rapelle Bugs is available in a handy aerosol can. We also offer No-Grit Superfine Diatomaceous Earth Powder in a convenient 1kg bag. A Dusting Applicator for DE Powder may be purchased from our website.
---
Leave a comment